About the American Institute of Clinical Massage
The American Institute of Clinical Massage (AiCM) has been creating valuable well trained Massage Therapists and Practitioners of the Inland Northwest Region for more than 20 years! We work tirelessly with the community and local employers to fine-tune our curriculum and procedures to produce the most successful graduates. AiCM goes the extra mile to ensure it maintains the highest levels of educational and ethical standards by being accredited by the Accrediting Commission of Career Schools and Colleges (ACCSC).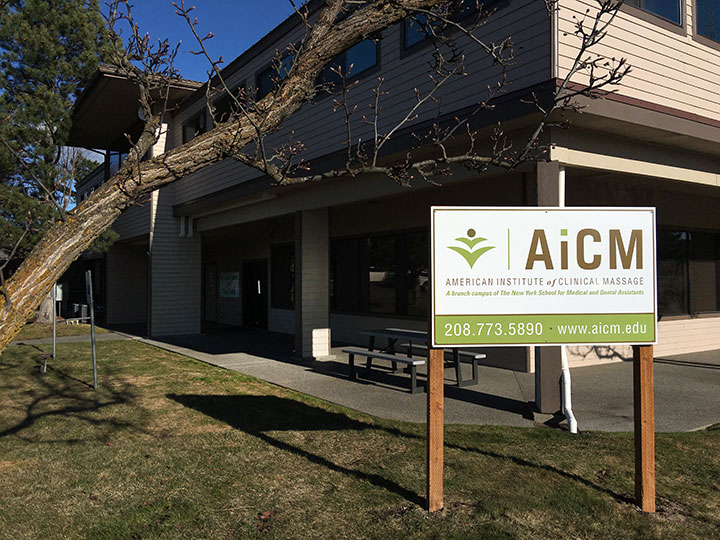 4365 Inverness Drive, Post Falls, Idaho 83854
AiCM is located on the lower level of the Highlands building next to the Highlands Golf Course in Post Falls, Idaho. We have a beautiful campus with lots of parking, amazing sunsets and views! The school is easily accessed from I-90 and Highway 41; only 20 minutes from Spokane and 10 minutes from Coeur d'Alene and Hayden.
The 750 hour curriculum will allow the graduate to apply for licensing in almost any state in the country. Our curriculum is centered on learning the structure of the body through anatomy and physiology classes and then adding the motion of massage and treatment. We will teach you how to work with bodies at every stage of life. You will learn how to give a spa treatment as well as learn medical massage treatments for injuries and recovery and sports massage.
It is an exciting time in the history of massage as there are so many avenues and tools to apply the skill of massage. Come visit our campus and school. You will see it is a positive place where learning happens. If you are looking to receive a massage from one of our incredible students, please call us at 208.773.5890.